December 2, 2020 at 2:46 pm
#13568
Hi, well the Mikuni is fitted (yesterday) And she fired up on the ninth kick which to me was incredible. Fitted but not sorted out the intake hose yet so seems a bit weak low down but of course as said it came with spare jets so can change if necessary. Did a slight miss service to Motocarb, the price actually was £165.00 + del. Do like the feel of it. For your interest the enrichment chamber is at the engine end of the body so must make it more responsive.
Skimmed a few thou. of each end dia. (see pic) to give a good fit in the manifold.
Still have to sort out the inlet hose. Would you believe it had split just sitting there. Twas only eight month old. Old stock do you think ? Trying Supaglue, well they are over thirty quid now. Did half try your suggestion of paring the hose out to suit the flange dia Ian but wasn't happy with the way it was going. Still pondering on't.
Below should be a pic of it in the lathe. Used a boring tool so as to miss the choke lever.
Hasta la Vista Amigos.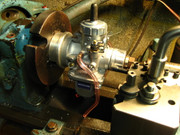 This reply was modified 1 year, 8 months ago by

A A A Dummy

.